You can pin Microsoft Project side by side with the Quick Schedule Guide on the same window screen as follows:
Windows Key + Right Arrow or Windows Key + Left Arrow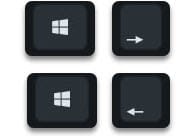 Open Microsoft Project and the Quick Schedule Guide in separate windows.

Select Microsoft Project.

Press and hold down the Windows button on your keyboard.

Press the (right or left) arrow button on your keyboard to move Microsoft Project to that side of the screen.

Select the Quick Schedule Guide.

Now both windows will display Side-by-Side in the same browser window.
Having both windows on one screen is an effective way to work with Microsoft Project and the Quick Guide at the same time.